NP28 White
$0.00
ONKRON NP28 White
Wall Mount TV Bracket for 17"-43" TVs weighing up to 77 lbs
VESA Compatibility :
100х100, 100х200, 200x100, 200х200 мм
Distance from the wall ,in
1.96 ~ 19.48
Screen diagonal cm
43.1 ~ 109.2
Screen diagonal in
17 ~ 43
Tilting Angle
1.96 ~ 19.48
How to Measure VESA :
VESA patterns are measured by the center of one mounting hole to the center of another on the back of a television in millimeters. In the example above, the VESA measurements are 400 (width) x 400 (height).
The example TV would be able to use a VESA 400 x 400 mount.
Onkron Shipping Policy
Please note that all products bought at Onkron.us are eligible for Free Expedited Shipping ( Only TV carts heavier than 110 lbs get free standard shipping ). Free shipping automatically applies only for orders with shipping to the continental U.S.
All Items are delivered within 5-8 business days starting from the purchasing date. Overnight Expedited shipping is available but will be charged extra.
Free shipping is not available for shipments to other countries and Alaska / Hawaii, U.S. Protectorates (American Samoa, Guam, Marshall Islands, Federated States of Micronesia, Northern Mariana Islands, Palau, Puerto Rico, and the Virgin Islands).
You can specify the delivery costs by the following telephone number (315)9682278 or by mail info@onkron.us.
ONKRON PREMIUM Limited Warranty
What the Warranty Covers:
Onkron warrants its products to be free of defects in material and workmanship for the product's Warranty Period. The Warranty Period starts on the original purchase date of the product.
What the Period of Coverage Is:
This Limited Warranty extends only to the original purchaser of the product and not to any subsequent owner. If still owned by the original purchaser, all
Onkron Premium products are covered by a limited product warranty from the original purchase date of the product.
Five (5) years for all Onkron products
How to Get Warranty Service and What We Will Do:
For warranty claims made during the Warranty Period, Onkron will replace any defective product part free of charge. If a part of your ONKRON Premium product fails, call ONKRON at 315-968-2278 to make a warranty claim. We will discuss the problem with you and once we confirm the product is under warranty, we will ship replacement parts at no cost to you within 72 hours. This Limited Warranty does not cover the costs of removing and replacing defective parts from your ONKRON product. So, if your problem requires a repair technician, you must pay any labor charges.
Additional Limits on the Warranty::
The Limited Warranty is automatically void if your Onkron Premium product is modified in any way, improperly installed, taxed beyond its stated weight capacity or otherwise misused or abused. All ONKRON products are intended for indoor use only and any outdoor use voids this Limited Warranty. The Limited Warranty for wall and ceiling mounts is void if the mount is moved from its initial installation.
How State Laws Relate to the Warranty:
To the maximum extent permitted by applicable law, Onkron disclaims any other warranties, express or implied, including warranties of fitness for a particular purpose and warranties of merchantability. In any event, no express or implied warranty can last longer than the term stated above ("What The Period of Coverage Is"). Some states do not allow disclaimers of implied warranties or limitations on how long an implied warranty lasts, so these limitations may not apply to you.
Onkron will not be liable for any damages whatsoever arising out of the use or inability to use its products, even if Onkron has been advised of the possibility of such damages. To the maximum extent permitted by applicable law, ONKRON disclaims any responsibility for incidental or consequential damages (such as the cost of repairing or replacing other property which damaged when the device does not work properly). Some states do not allow the exclusion or limitation of incidental or consequential damages, so the above limitation or exclusion may not apply to you.
TV wall mounts are an irreplaceable part of our lives. That's why so many companies manufacture and distribute them. ONKRON wall mounts are unique because the quality of our products mixed with affordable pricing yield a combination which is hard to come by these days. Hang your sleek TVset on the wall to free up valuable surface space on the TV console or another piece of furniture where the TV would normally be placed. Tilt and swivel features of ONKRON wall mounts help you make the most of the TV by enabling you to watch it from different angles, or even from different rooms! Adjust the viewing angle so that everyone can see what's going on on the silver screen! At ONKRON safety always comes first. Wall mounting the TV eliminates the risk of accidental bumping or TV tip-overs, giving you an absolute peace of mind. Even though installing wall mounts is not rocket science, do consider hiring a pro to hang your TV on the wall.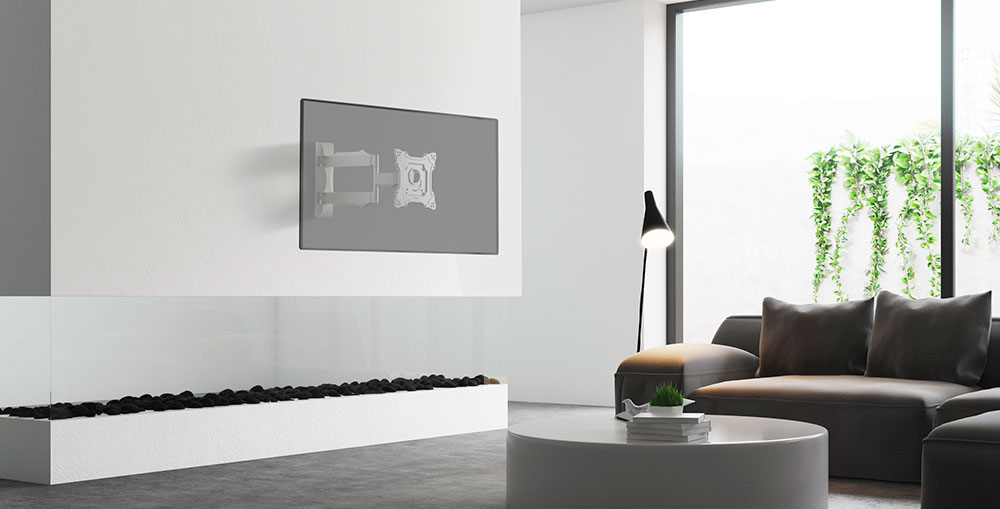 SPCC steel and VESA mount
NP28 White ergonomic wall mount is made of high-quality SPCC steel for maximum rigidity, strength and durability. The following VESA patterns are supported: 100x100 mm, 200x100 mm, 100x200 mm, 200x200 mm. You can purchase an adapter for larger or non-VESA TVs - ONKRON A2V. The wall mount can hold screens weighing up to 77 lbs (34.9 kilos).
Tilt and swivel bracket
This wall mount is a true full motion TV bracket which means it can tilt and swivel. The tilting angle can be adjusted between +8 ~ -5 degrees - the TV can point downward as well upward. Swiveling range is 180 degrees - you could watch your TV from different rooms! The screen's horizontal position can also be adjusted between -4 ~ +4 degrees.
Cable management
The mount is equipped with cable concealing plastic shrouds which can tuck away the power cords and other cables hooked into your TV and make your multimedia setup look neat and tidy.
Fits most modern TVs
This model perfectly fits all popular television set brands such as LG, Toshiba, Samsung, Sony, Sharp, Panasonic, as well as many others.
Quick and easy installation
The TV mount comes with all the needed hardware and a detailed instruction manual. You can also watch our YouTube video on how to assemble the mount and see for yourself that it's easy as pie. Even though it's not hard, do consider hiring a pro for installation.
Distance from wall
Slim profile TV bracket NP28 White is fully retractable – keep your flat screen as close as 55 mm (2 inches) from the wall or extend the brackets forward from the wall for up to 495 mm (19.5 inches).